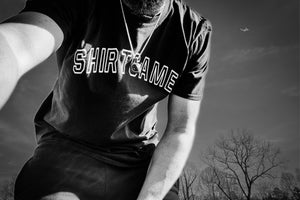 Our Latest Sneaker Match Collections
Click Any of the Sneakers Below to Shop their Collections
Meet The Owner/Creator - "Shirtgame"
"After years of success and what felt like endless hours of hard work in my shop, I decided I no longer wanted to be in the screen printing business so I decided to sell my shop to a dynamic duo who went on to do some amazing things. In my attempt to completely exit the t-shirt business with plans to embark on other ventures, I came to realize that even though I no longer wanted to do the printing, I didn't earn the nickname "Shirtgame" for nothing... I still love t-shirts too much to leave them alone and because of that, Skylarstyle was born. Now I'm able to solely do what I love most which is create cool designs and outsource to have them printed on great quality t-shirts to match your style as well as my own."
Testimonials
Shirt game indeed. Absolutely love the shirt. Perfect match. Awesome!

Anthony D.
Love the quality of the shirt! (Soft)

Yolanda B.
Thanks Fast shipping, Exactly the product shown

William P.
Love this shirt! I got tons of compliments

Anthony R.
Matches my shoes perfectly!

Donald W.