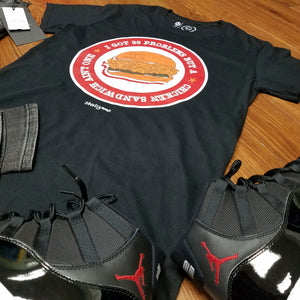 Hot & Fresh Chicken Sandwich Tees are Here!
Greetings everyone! Okay, so I'm sure you all know that a certain fast food chain that's famous for selling chicken now has introduced their new chicken sandwich and the media has gone crazy over it. It's all over social media and even celebrities are posting their own tasteful experiences from trying the new sandwich. Me personally, I don't see what the hype is all about. Every time I drive pass one of the restaurants, I see cars wrapped about the building in drive thru and even in lines stretched down the street. Some restaurants even ran out of chicken which immediately made me think of creating some "Straight Outta Chicken" t-shirts lol. I mean it was insane to see... like what did they put in those chicken sandwiches?? Right when I thought I had heard and seen it all, I started hearing about people fighting over chicken sandwiches and seeing videos of people fighting over chicken sandwiches posted on instagram. The restaurant employees were getting so overworked that some of them were quitting and walking out of their jobs. This new chicken sandwich was starting to be a problem and that's when another bright idea popped in my head. Later that night this chicken sandwich t-shirt design was created with the words, "I Got 99 Problems But A Chicken Sandwich Ain't One". Since I had never really saw a chicken sandwich t-shirt before, I figured it would be something new and unique for anyone who wants have something that can be considered memorabilia from this day in time. A time when a chicken sandwich drove everyone mad. What a time to be alive.
Signing off here... your favorite "Sneaker Tee Pioneer"
Shirtgame
This tee is available in BLACK and in RED.
(Click either color link to check them out.) 
---